Skywhales: Every Heart Sings
SKYWHALES: EVERY HEART SINGS

balloon launch AT CORBEN OVAL 
Corben Oval
Yarra Bend
Fairfield VIC 3078
Set an early morning alarm and join us for this spectacular sunrise event at Corben Oval as we watch the Skywhales lift off and fly over the heart of Melbourne.
SCHEDULE
6am: Gates and coffee carts open
6.15am: Skywhales inflation commences
6.55am: Welcome to Country by Wurundjeri Elder Uncle Ringo Terrick
7.05am: Patricia Piccinini speaks
7.15am: Jess Green (aka Pheno) performs We are the Skywhales
7.22am: Skywhales launch at sunrise
what to bring
Come armed with picnic blankets (or seats) and torches. Look out for marshalls who will help guide you to where you can watch all the magic unfold—and inflate!
parking
Car parking will be available at Studley Boathouse Carpark, Deep Rock Road, and Yarra Bend Road. Please allow 5 to 10 minutes to walk from the car parks.
Accessible parking is available on Yarra Bend Road around Corben Oval. Please inform traffic management staff on arrival, and they will direct you to the designated area.
Parking is limited—if you're driving, we strongly encourage you to carpool with family and friends wherever possible.
food and drink
Coffee carts will be available onsite for your early morning caffeine and pastry fix. BYO food and drink is also welcome.
leave no trace
We are so fortunate to be experiencing this monumental public artwork at Corben Oval in the natural surroundings of Yarra Bend Park on Wurundjeri Country. We kindly ask that all visitors respect the site and leave no trace by taking all rubbish away with them.
---
The story of the Skywhale family is told in Patricia Piccinini's new children's book 'Every Heart Sings', while an exhibition in the Tim Fairfax Learning Gallery at the National Gallery of Australia brought together studio drawings, 3D models and an interview with the artist to look at the development the Skywhales. An accompanying online learning resource for primary students looks at concepts of love, care and responsibility in relation to ourselves, families, and other living beings. Musician Jess Green (AKA Pheno) has created a song, 'We are the Skywhales', and keen knitters can make their own Skywhales from a pattern developed by a local Canberra knitter.
Skywhales: Every Heart Sings is a National Gallery Touring Event, supported by Principal Partner The Naomi Milgrom Foundation and Visions of Australia. Skywhales: Every Heart Sings is the third instalment of The Balnaves Contemporary Series and is a Know My Name project.
Sign up below to express your interest in attending the launch event and stay up to date with all the latest Skywhales information and program news.
Register your interest in attending
Get into the
Skywhale Spirit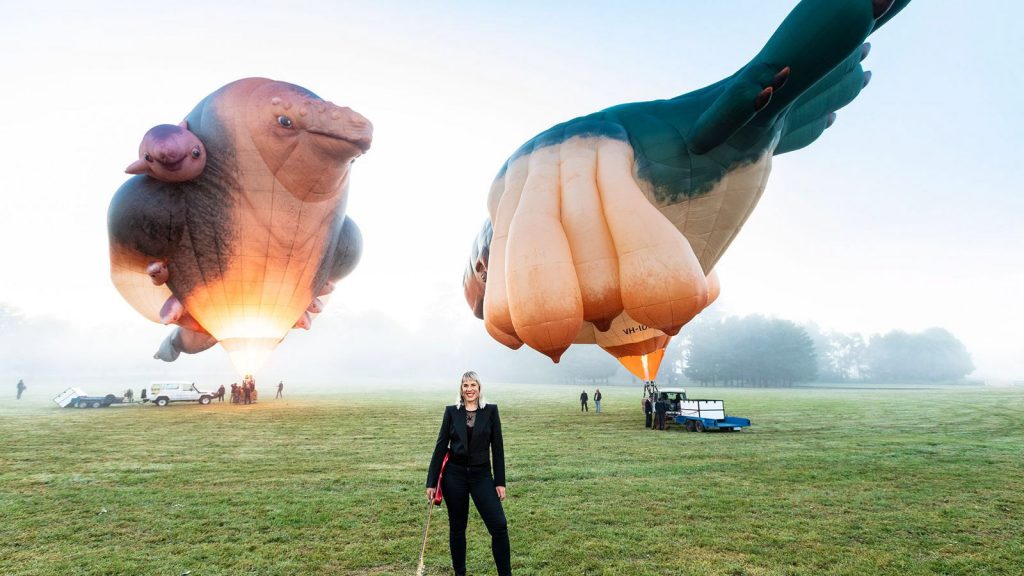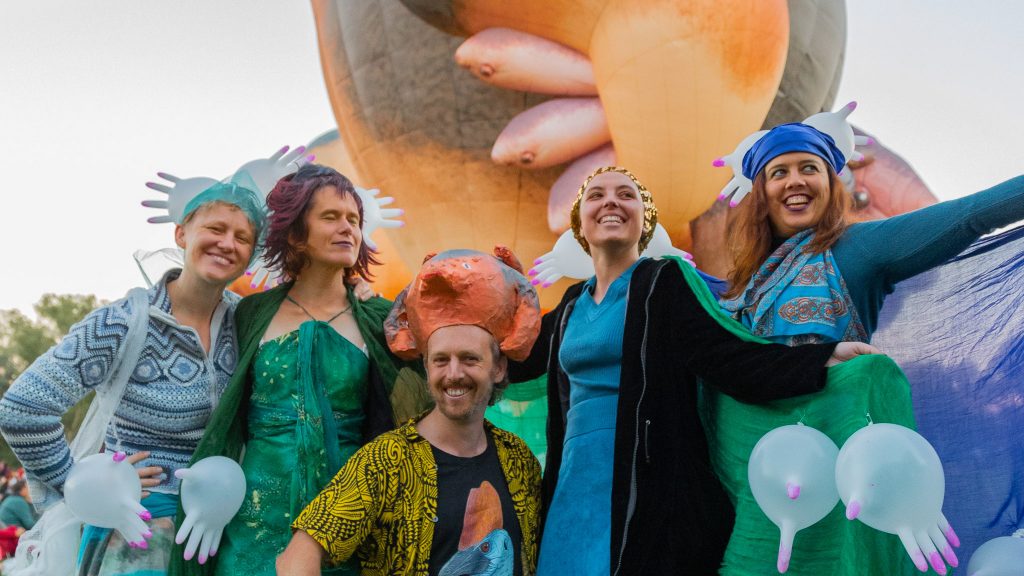 skywhales SONG
We'll be singing the Skywhales song at the launch, and we want you to join!
Canberra musician Jess Green (AKA Pheno) collaborated with Patricia Piccinini in 2020 to compose the song We are the Skywhales for the Every Heart Sings project. Jess has performed for theatre, dance and television; collaborated with Katie Noonan, Renee Geyer and Nell; played at the Closing Ceremony of the 2018 Commonwealth Games and was Composer in residence at the 2019 Canberra International Music Festival.
Learn the song here
DRESS TO IMPRESS
Who doesn't love a theme? Get crafty and create your very own Skywhales costume to look the part and join the family!
There are no limits to how you can create your look, from fabric to paper mache to rubber gloves! Let your imagination fly.
Share your Skywhales get up with us using #Skywhales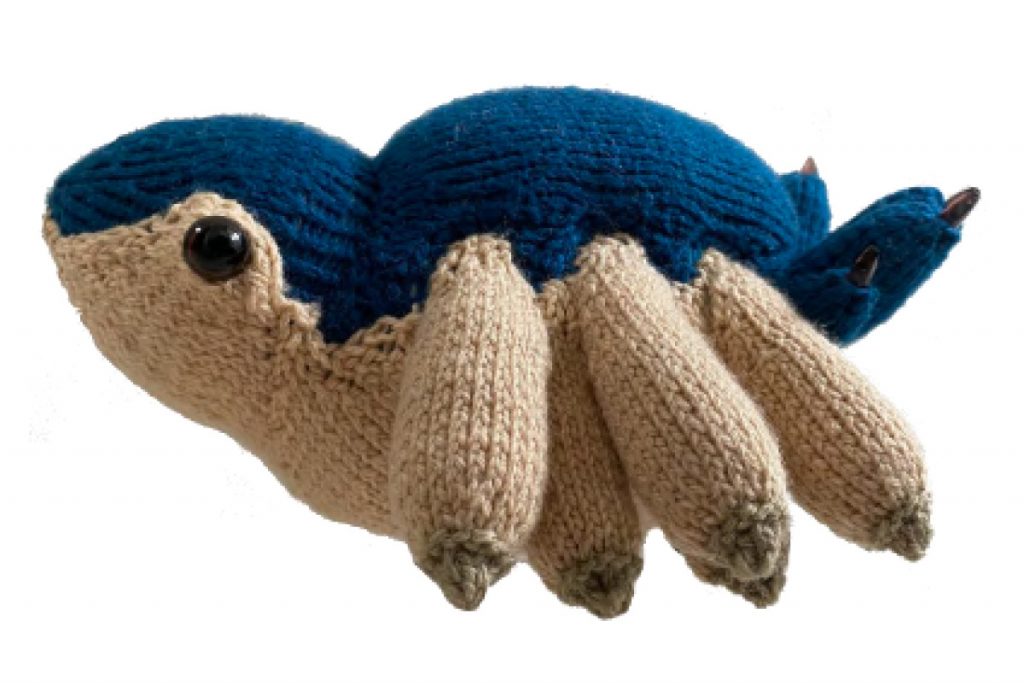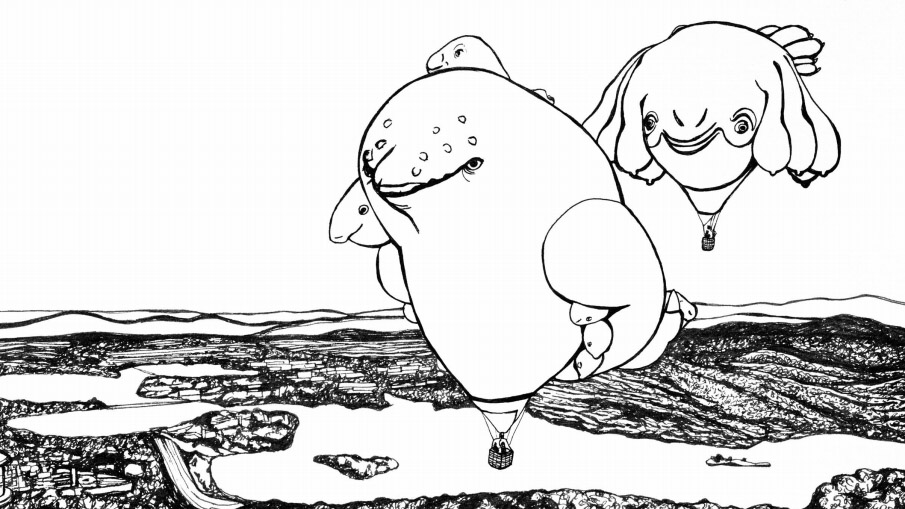 Knitting Pattern
Local Canberra knitter Katy Griffis and artist Patricia Piccinini have collaborated on a Skywhale Mama knitting pattern. Commissioned by Patricia, Katy developed the pattern, complete with details of knitting techniques, stitches and abbreviations, to create a 35cm Skywhale Mama stuffed toy.
Share your creations with us using #Skywhales!
Download the knitting pattern here
Colouring In
Keep little hands and minds busy with the Skywhales colouring sheets!
You can colour your own Skywhales by downloading these printable colouring sheets featuring illustrations from Every Heart Sings.
Every Heart Sings
Skywhales Over Canberra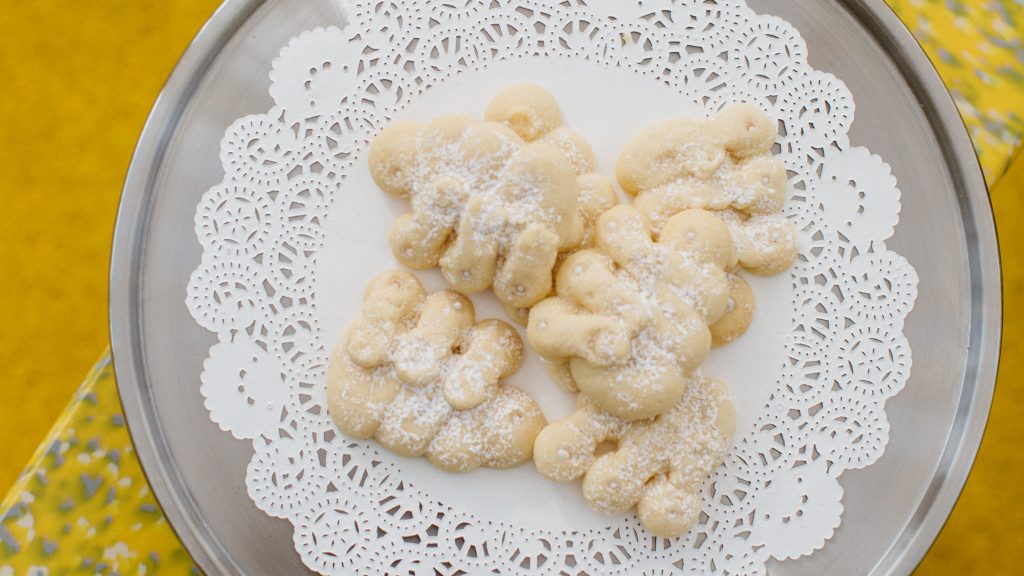 MAKE SKYWHALE COOKIES!
Created by Pip from Good Good Cake, these cookies were inspired by Patricia Piccinini's Skywhales. Bake at home and bring them along to the launch on Saturday 19 March at Corben Oval to nibble on during the flight!
Download the recipe here